Snoop Lion
(also known previously known as Snoop Dogg) is a real-life rapper and also a fictionalized character of himself on the ABC daytime soap opera One Life to Live and the online reboot of
One Life to Live
.  He will be the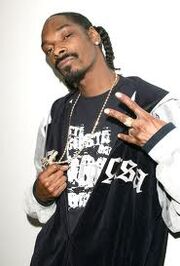 writer and producer of the new theme song of the online reboot version of
OLTL 2.0
.
Storylines
Edit
He also appears few more times. In early 2010, he (as Snoop Dogg) appears in the nightclub Capricorn to sing I Wanna Rock and give some romantic advice. Earlier that night, he talked to Nora Hanen Buchanan and Bo Buchanan with their son Matthew Buchanan to convince Nora and Bo to allow Matthew to attend his perfomance at Capricorn. (MTV, Snoop Dogg Returns)
He will appear on a few episodes in 2013 advertising his documentary about his conversion from Snoop Dogg to Snoop Lion. (Soap Opera Network, Snoop Lion)
Ad blocker interference detected!
Wikia is a free-to-use site that makes money from advertising. We have a modified experience for viewers using ad blockers

Wikia is not accessible if you've made further modifications. Remove the custom ad blocker rule(s) and the page will load as expected.