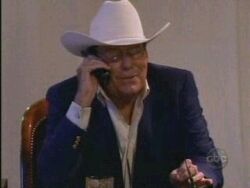 Philip Carey (July 15, 1925 – February 6, 2009)[1][2] was an American actor.
A former U.S. Marine, Carey made appearances in films such as This Woman is Dangerous with Joan Crawford (1952) Calamity Jane (1953), Pushover (1954) and Monster (1979).
Carey's career started with ten characters in ten episodes of the Ford Television Theatre, a highly popular drama series of the 1950s. He narrated thirty-one episodes of the documentary Untamed World. He starred as detective Philip Marlowe in a 1959 series of the same name. He portrayed four different characters on as many episodes of ABC's mystery series 77 Sunset Strip starring Efrem Zimbalist, Jr.
From 1965-1967, Carey played Captain Edward Parmalee on the NBC western television series Laredo, set in the South Texas city located on the Rio Grande. After Laredo, Carey guest starred in an episode of ABC's military-western Custer starring Wayne Maunder in the title role.
From 1979 until late 2007, he has played the protective Texan patriarch Asa Buchanan on the ABC soap opera, One Life to Live.
Carey became well-known for a series of tongue-in-cheek television commercials for Granny Goose potato chips, in which he self-identified as "Granny Goose", portraying the company's spokesperson as a tough cowboy.
Carey was diagnosed with lung cancer in January 2006 and underwent chemotherapy.
In late March 2007, it was announced that Carey would be exiting One Life to Live. He had appeared in one episode in 2003 and one episode of All My Children in 2004. He appeared in an additional nine episodes of One Life to Live between January 3, 2007 and May 16, 2007. Carey turned down an offer to go to recurring status with the show (although he nevertheless did, in fact, make several appearances on the show after his official exit in late 2007, including several appearances in July 2008, with his final appearance being on December 29, 2008). His character of Asa died off-screen four months later.[3]
He was close friends with his on-screen son Robert S. Woods.[4]
Carey died of lung cancer on February 6, 2009 at the age of 83.
Cite error: <ref> tags exist, but no <references/> tag was found