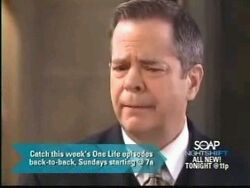 Peter Bartlett (born August 28, 1942) is an American-born actor.
With appearances on shows such as Law & Order and films such as Meet the Parents, Bartlett currently portrays Nigel Bartholomew-Smythe on the ABC soap opera, One Life to Live. He has portrayed this role since 1991. In 2004 he appeared on Broadway playing the role of Pluto in The Frogs, the Stephen Sondheim -Burt Shevelove -Nathan Lane adaptation which played at the Vivian Beaumont Theatre at Lincoln Center. His lively performance was well-received by critics and audiences, and Stephen Sondheim has stated that Mr. Bartlett's delivery of the line, "Get out of town!" (preserved on the original cast recording by PS Classics) was a highlight of the show. He currently stars on Broadway in The Drowsy Chaperone as Underling, the butler.
Ad blocker interference detected!
Wikia is a free-to-use site that makes money from advertising. We have a modified experience for viewers using ad blockers

Wikia is not accessible if you've made further modifications. Remove the custom ad blocker rule(s) and the page will load as expected.