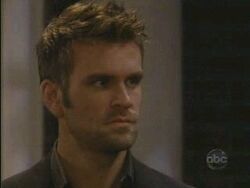 John Brotherton is an American actor. Since August 10 2007, Brotherton has played Jared Banks on ABC's daytime drama One Life to Live. John went to Oregon State University, located in Corvallis, Oregon, and was a member of the Kappa Sigma fraternity.
A fan site which claims to be the first John Brotherton fan site, has scanned copies of magazine articles featuring or mentioning Brotherton, as well as photos, events, fan comments, and other related items.
Married to actress Alison Raimondi (Employee of the Month, CSI:NY) on June 7th, 2008
External links
Edit
Ad blocker interference detected!
Wikia is a free-to-use site that makes money from advertising. We have a modified experience for viewers using ad blockers

Wikia is not accessible if you've made further modifications. Remove the custom ad blocker rule(s) and the page will load as expected.