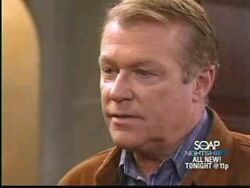 Jerry verDorn (born November 23, 1949) is an American actor.
verDorn is best known for his role as Ross Marler on the CBS daytime soap opera Guiding Light. He became one of the longest-running cast members, debuting in the role on March 23, 1979 and portraying the character of Ross for over 26 years.
verDorn won Daytime Emmy Awards for Best Supporting Actor in 1995 and again in 1996. ver Dorn also portrayed Ross in a television movie, The Cradle Will Fall, an adaptation of a book to film using several Guiding Light characters in supporting roles. In the fall of 1994, ver Dorn also played the humorous lookalike role of Howie - "Hoss" - who was the total antithesis of Ross.
Guiding Light took ver Dorn off contract in the spring of 2005, due to severe budget cuts.Template:Fact Ver Dorn's last appearance as Ross aired on October 11, 2005.
On October 25, 2005, verDorn took over the role of Clint Buchanan on ABC's One Life to Live, a role originated and played by Clint Ritchie from 1978 to 1998.