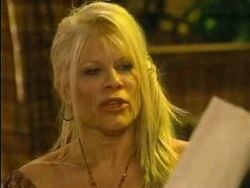 Ilene Kristen (born Ilene Schatz on July 30, 1952 in Brooklyn, New York) is an American actress.
Kristen started her career in theater and played Patty Simcox in the original production of Grease. She is best known for her role on the soap opera Ryan's Hope, where she played Delia Reid.
The character of Delia was an extremely insecure woman who destroyed the lives of many around her in her need to stay tied to the Ryan family. Kristen said that she expected fans to hate her, but instead many sympathized with Delia's plight. Kristen played the role from 1975 to 1979, when she then left to try other venues. She returned in 1982 but was fired a year later because ABC felt she was overweight. Kristen claimed she was suffering a bad reaction to medication. In 1986 she returned and lasted until the series finale in 1989. She remains friends with former Ryan's Hope actress Kate Mulgrew and supported her husband Tim Hagan when he ran for Governor of Ohio.
From 1990 to 1991, Kristen played Norma Gilpin on Loving, and in 1995 she had a brief stint on Another World.
In 2001, she began acting on soaps again, this time on the ABC soap One Life to Live, where she portrayed Roxanne "Roxy" Balsom. She had had a previous brief appearance on the show in 1982, when she played the part of Georgina Whitman.
In 2004, she was nominated for her first Daytime Emmy for "Outstanding Supporting Actress in a Drama Series". After receiving her nomination, the producers bumped Kristen to recurring status and removed her photo from the opening credits. In spite of her change of status with OLTL she was nominated for another Daytime Emmy Award for "Outstanding Supporting Actress" in 2005.
External links
Edit