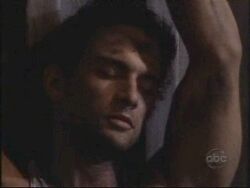 David Fumero (born Joseph Sentielo-Fumero on December 29, 1972 in Havana, Cuba)[1] is a Cuban American actor and former male fashion model.
Fumero is best known for his portrayal of Cristian Vega on the ABC soap opera, One Life to Live, a role he played from June 28 1998 through October 28 2003, and temporarily from November 5 2004 to February 14 2005. On September 1 2005, he returned to One Life to Live again on a long-term contract basis.
Fumero was discovered by Irene Marie Models when he was a high school senior.Template:Fact Fumero appeared in the music video for Mariah Carey's 1997 Butterfly single "Honey". He also starred in the 2007 independent film Greetings From The Shore[2] and the 2008 feature film, Manhattanites (film).[3]
A part-time model, Fumero is signed to Fusion Model Management in New York City.Template:Fact
Personal life
Edit
David Fumero is a former United States Marine.[4] On 9 December 2007 Fumero married his One Life to Live co-star Melissa Gallo (Adriana Cramer).[5] He previously dated another fellow One Life to Live performer, Erin Torpey (ex-Jessica Buchanan).
Cite error: <ref> tags exist, but no <references/> tag was found