Lignite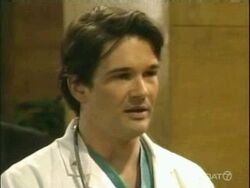 Chris Stack (born June 13 in Chicago, Illinois), is an actor who took over the role of Dr. Michael McBain on the ABC soap opera One Life to Live starting December 3, 2007, replacing Nathaniel Marston.
Before joining the cast of One Life to Live, Stack appeared on the CBS soap opera As the World Turns in 2006. According to the Internet Movie Database, Stack appeared as Brad White in an episode of One Life to Live in 2003. He has also appeared on Conviction (2006), Third Watch (2006) and in the recurring role of Alec on The Education of Max Bickford from 2001 to 2002.
Stack has also appeared in numerous plays and several films, including 2003's School of Rock and Roger Dodger.
Ad blocker interference detected!
Wikia is a free-to-use site that makes money from advertising. We have a modified experience for viewers using ad blockers

Wikia is not accessible if you've made further modifications. Remove the custom ad blocker rule(s) and the page will load as expected.