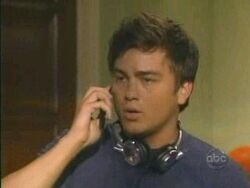 Brandon Buddy (born November 26, 1985[1]) is an American actor on ABC's daytime soap opera One Life to Live. He has played the contract role of Cole Thornhart from October 10, 2006 to November 10, 2010.
Brandon attended high school in Eagle Lake Florida and graduated Lake Region High School.  His parents, sister, and brother all live in Austin, Texas. He was born in November 26, 1985.
The character of Cole is the son of Patrick Thornhart and Marty Saybrooke, well-known characters from OLTL history.  He was the love interest of Starr Manning.  Actor Van Hughes would step into the role for the ABC network finale and then would go to GH to introduce his fiancee of Starr Manning into the fold of GH.  His character died from a car explosion which led to events that also brought the other members of the Llanview Three (Todd Manning and John McBain) to GH.
Cite error: <ref> tags exist, but no <references/> tag was found