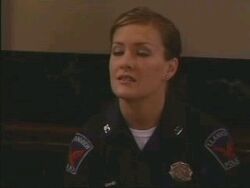 BethAnn Bonner (born October 22[1]) is an American actress who competed in SOAPnet's I Wanna Be a Soap Star 3 in 2006. While she did not win, later that year she was offered the contract role of police officer Talia Sahid on the ABC daytime soap opera One Life to Live,[1] debuting on December 21, 2006.[2]
BethAnn is originally from Stillwater, Oklahoma[1][3] where her parents live.[4] She has two sisters, one in Chicago and one in Washington, D.C..[4]
BethAnn graduated from Emerson Performing Arts College in Boston, Massachusetts.[4]
Cite error: <ref> tags exist, but no <references/> tag was found
Ad blocker interference detected!
Wikia is a free-to-use site that makes money from advertising. We have a modified experience for viewers using ad blockers

Wikia is not accessible if you've made further modifications. Remove the custom ad blocker rule(s) and the page will load as expected.